Strip in the church
We had already seen several really cool things that day and then we loitered into a dark room. As we turned right, rather unexpectedly, we found ourselves in a hall of epic proportions and dramatic lighting with a giant metal Möbius strip in the middle. I gasped and The Toddler audibly said 'awesome'.
It was the first time he responded so viscerally to something other than ice lollies or Iron Man, so let this blog post be the pictorial chronicle of the events leading to this moment.
This all happened at the very end of our visit to Kiscelli Museum, which is home to a whole range of different and totally unrelated collections and exhibitions. The Museum itself is in Buda, fairly easy to get to (take bus 160 or 260 from Batthyány Square and get off at Margit Kórház), but difficult to access due to a good 800 yards of gently but inexorably ascending steps leading to the old cloister hiding in the leafy hillside. If you're in a wheelchair, you will have to join in the traffic on the road. We carried our buggy up the steps and had unkind thoughts about hills and elevations in general. There might be an accessible way to get there, but we didn't find it.
Kiscelli Museum / Municipal Gallery is located in an old Baroque cloister building, which has a very pleasant courtyard. It may have been the warm, sunny weather on a Sunday, or something else entirely, but both visitors and staff were extremely kind, smiley and leisurely. There are several sculptures of young girls stretching and relaxing, lots of pebbles for toddlers to throw around happily, and a friendly dog wagging its tail at us from a shady spot (the latter is not guaranteed to be there at all times).
The history of the building is interesting. It is called Kiscell (Little Zell), because Count Péter Zichy (1674-1726) built a chapel on this site to house a replica of the miracle-working statue of the Virgin in the Austrian pilgrimage site of Mariazell. To provide ecclesiastic services for the pilgrims, Trinitarian monks were settled in Kiscell. When the Trinitarian order was suppressed in 1784, the buildings were used as barracks and a hospital by the military. In 1910, it was purchased by the Vienna-based art collector and furniture manufacturer Max Schmidt, who turned it into a luxurious mansion and bequeathed it to the city of Budapest in his will. Although it suffered serious bomb and fire damage in World War II (including the loss of its Baroque ceiling frescoes by Johann Gfall), it survived and is now a wonderful hotch-potch of all things Budapest.
It looks very sleepy and quiet on the outside, but there are several permanent collections in the building, and a busy schedule of temporary exhibitions, music and activities. Here is a little sample of what we saw:
Baroque Sculpture Hall.
Living statue guys should come here to do their research. Maybe they are living statue guys doing their research.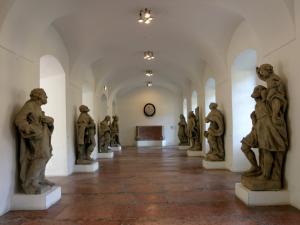 Public Places and Private Spaces, 1780 – 1940
, which is a curious combination of everyday objects and living spaces displayed alongside the treasures of the Municipal Gallery. The Municipal Gallery was founded in 1889 as the fine art collection of Budapest. In its early years, it only collected Budapest-related art, but in the beginning of the twentieth century, Mayor
István Bárczy
had an entirely different vision and decided to develop a collection based on the artistic value of the works, rather than the subject matter. The collection of contemporary Hungarian art was so valuable and comprehensive that between 1953 and 1957 more than 7000 items were transferred to the collections of the National Gallery. From 1963 the Museum began to collect again and moved from the City Park in Pest into its new home, the Kiscelli Múzeum. It is now a branch of the Budapest Historical Museum and continues to collect and exhibit twentieth-century fine art and contemporary art in its permanent exhibition.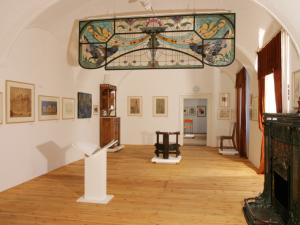 The Antiquity of the Capital, 1780-1873
, another permanent exhibition, seems like a truly postmodern undertaking reflecting upon the museum's own history. The objects of this exhibition are displayed in contemporary interiors, so that the art of evoking the past though collecting art and 'curiosities' and other concepts, such as nostalgia and antiquity, become the focus of the exhibition, rather than the objects themselves. The aim is to tell the story of telling the story of Budapest  through the Museum's collections, but you can just enjoy the pretty furniture and paintings of rank-looking old patricians and curly little boys playing with razor sharp swords.
Unfortunately, the exhibition
'Press and Newspapers in Buda–Pest'
is currently closed due to technical problems, but we still managed to have a peep at two majestic pieces of machinery, much to the delight of the printer in the family.
And then there are the temporary exhibitions. We actually went to see '
Csomagoljam?
', the exhibition of retail packaging that day.  We had a blast to say the least. Besides the obvious joy of seeing some classic typography and logos from my childhood, we concluded that there is something immensely beautiful in these old designs from an era of uncomplicated marketing messages. There were Christmas chocolate wrappers designed by the genius
Lajos Kozma
, boxes for silk stockings, revisionist packs of thumb tacks fighting to revoke the Versailles Treaty of 1921 in their very own way, the stern beauty of
government cheese
labelled as 'the gift of the American people', and a cute video of a fox peeing at a tree which we had to watch a million times on a loop because the kid likes watching things like a fox peeing at a tree a million times on a loop because its on a loop so the fox can pee at a tree a million times. On a loop.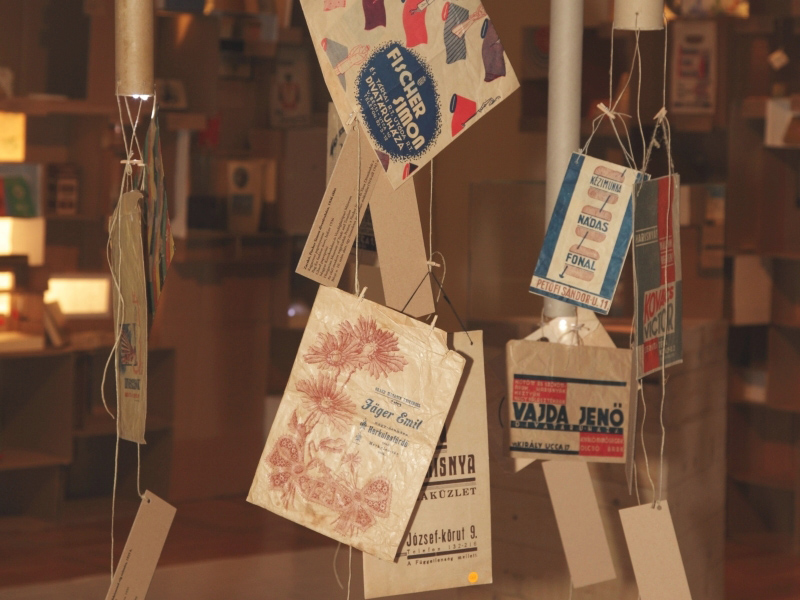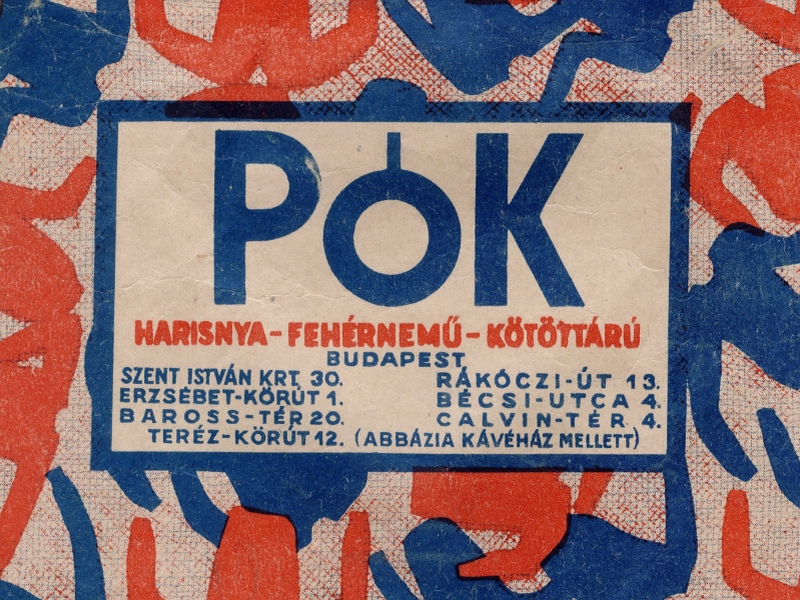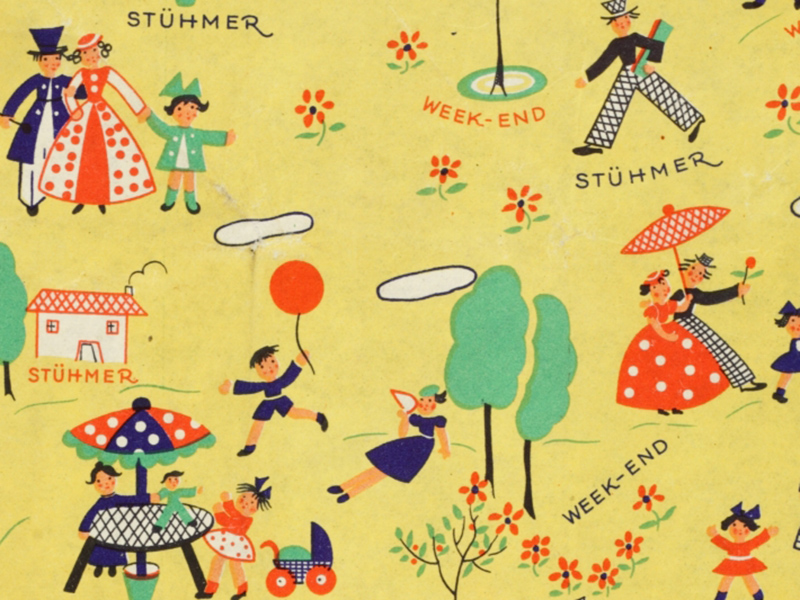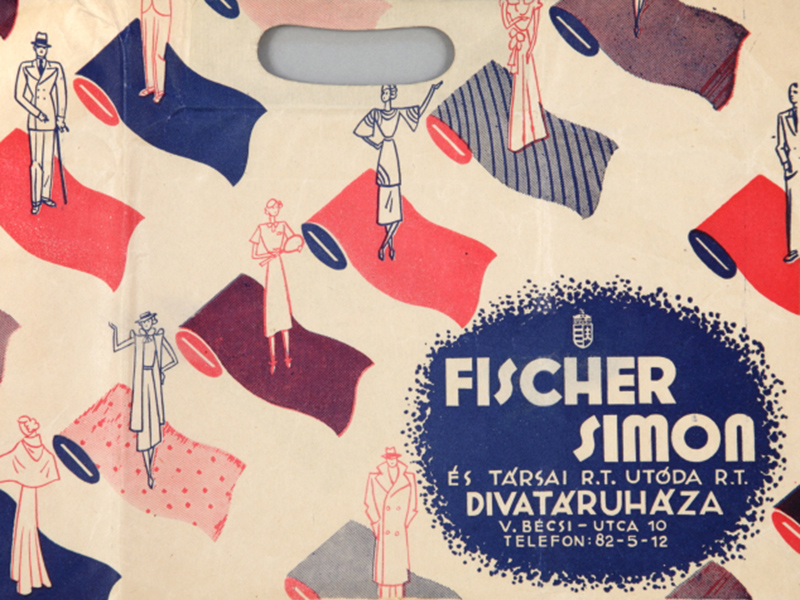 (Photos: Kiscelli Múzeum)
I honestly could have easily spent the whole day there (and it will close next Sunday, dangit). Unfortunately, the kid started getting restless and sleepy (worst combination ever), so we decided to leg it and then we unexpectedly ended up in the cavernous hall mentioned at the beginning of this post. This is why I hate preparing for trips like this: unexpected surprises and the pleasure of discovery amplify all artistic value. I guess I should have started with a spoiler alert in case you were going to visit too, but I'm mean.
The unexpected room at the end of our visit turned out to be this breathtaking old church building that had been restored without much architectural intrusion to create an exhibition space for contemporary art. To quote an expert: it is 'awesome'.
The mysterious sculpture is Zénó Kelemen's work 'Below the Line':
(Photo: Ágnes Bakos, Kiscelli Múzeum)
Oh yeah, and all this for free.
(Our free entrance that day was part of the 'Love Hungary' campaign – another pleasant surprise. Tickets normally cost 1000 HUF for adults, and 500 HUF for concession)
Kiscelli Múzeum:
Address: 1037 Budapest, Kiscelli u. 108.
Phone: +36-1-250-0304
Opening hours:
1 April – 31 October: Monday Closed; Tuesday – Sunday 10:00 – 18:00
1 November – 31 March: Monday Closed; Tuesday – Sunday 10:00 – 16:00
Tags: Baroque, Buda, Budapest, exhibition, Kiscelli, Lajos Kozma, Mariazell, Max Schmidt, Municipal Gallery, Museum, National Gallery, packaging, Pest, printing, World War II, wrapping, Zénó Kelemen